You must be familiar with 6,6,6,6,0,6? Of course you are! Tewatia stole our hearts and sanity when he smashed Cottrell for five sixes in THAT over last year. Have you heard of 6,6,6,6,2,6 or 6,6,6,6,6,0 though? Perhaps you have, perhaps not. Allow us to introduce you to the man who came very close to the Yuvraj-esque (and Gibbs-esque) feat, not once, but twice in professional cricket - Shivam Dube. The power-packed southpaw smashed former Royals bowler, Pravin Tambe for five maximums in a Mumbai T20 game, and he did the same in a Ranji Trophy match, against Baroda. We leave it to the opposition, who they need to be worried about more, Tewatia or Dube. In the meanwhile, we caught up with the Mumbai boy, who was bought into our squad at the 2021 IPL auction.
1. What was your reaction when you found out you'll be playing for Rajasthan Royals?
I was in Jaipur and I was following the auction. I was very tense about which team I am going to play for. Finally, I was bought by Rajasthan Royals and I was really excited that I am going to play with my friend, Sanju Samson, who is the captain of the team. Really excited about that!
2. Leading run scorer for Mumbai in this year's Syed Mushtaq Ali Trophy and some crucial cameos in the Vijay Hazare Trophy - how do you feel about your form coming into the IPL?
Yes, Syed Mushtaq Ali was great for me and some cameos in the Vijay Hazare also. I need to push myself for any kind of performance that my team needs from me. I was always there for my team and the team is always there for me. Yes, now I'm really excited about the IPL.
3. You'll be joining fellow Mumbaikar Yashasvi Jaiswal at the Royals. Do you have any special memories of him?
There are many things about Yashasvi Jaiswal, but he scored 200 against Jharkhand in the Vijay Hazare Trophy (in 2019) and that is one of the best knocks I have seen in my life, so that is the best memory I have of him so far.
4. You have also been teammates with Shreyas Gopal and Mayank Markande for India A. Did you face them in the nets? If yes, which leggie did you find tougher to face?
It's not like someone is easy or someone is hard. I think both Shreyas and Mayank are good enough to play at any level. Having said that, I love to play leg spinners, so both are easy for me (laughs).
5. You are one of those all-rounders who bat and bowl with different hands. Is it something that happened naturally or did someone suggest it to you?
When I was playing cricket at the age of four or five, my dad saw that I was batting with the left hand and when I was bowling, I used my right hand. Bowling with the right hand and batting with the left hand comes naturally. You cannot manufacture the art.
6. A quick fire 50 or a four-wicket haul: what would you value more in a T20 game?
What the team needs at that point is more important. It depends on the conditions and the requirement of the team. Both things have the potential to be equally vital. You cannot say that a fifty is not that good or four wickets are not that good. I think as an all-rounder, both are crucial.
7. The last few months have involved a lot quarantines and staying in bubbles. What has your workout routine been like?
Quarantine can be really boring at times, but you can use that time for any workout. I do some core workout to keep myself strong from my basics. I concentrate on my core & glutes very often.
8. And what's your favourite cheat meal?
I love sweets. So whenever I am about to indulge in a cheat meal, I am usually going to go for sweets like rasmalai, rabri, malpua.
9. Do you have any goals for yourself this IPL season?
My team's goals always come first for me. I want my team to win the tournament. That is the first goal for me and to achieve that goal I need to work on my bowling and batting. Whatever my team requires, I need to do that.
10. Your favourite moment playing for India, apart from your debut.
The third match against Bangladesh (2019). That match was a decider and the over in which I got two wickets was the best moment for me.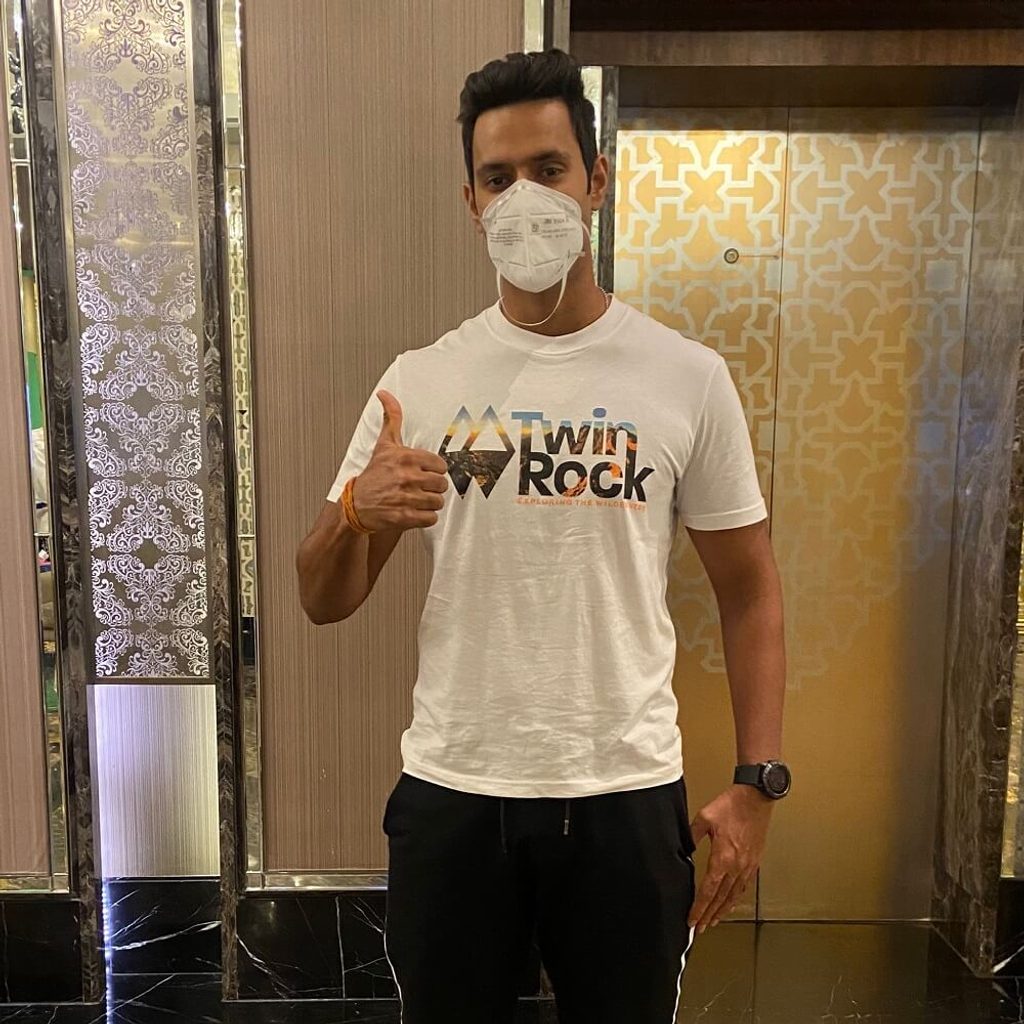 Dube is no stranger to the demands of the IPL. He has played a couple of seasons under Kohli, at RCB and has contributed with his cameos down the order and with the ball through his canny variations. One of our prime buys at the 2021 auction, the all-rounder could provide the finishing touches to our innings with the bat and can chip in with a few overs as well. He looked fit and sharp, as he checked into the team hotel. It doesn't seem like he's had a cheat meal in a while. We can't wait for him to begin training and eventually take the field to bring out his audacious strokeplay soon.