Much like life itself, sport can be a great equaliser. And cricket, of all sports, weaves poetic justice like no other.
A 20-year-old pacer was out injured for most of the first half of IPL 2021, a spirited team suffered a heart-breaking defeat despite a valiant knock by their captain, and the same team was up once again against familiar foes to kickstart another campaign. Only this time, fate decided to turn the tables in their favour.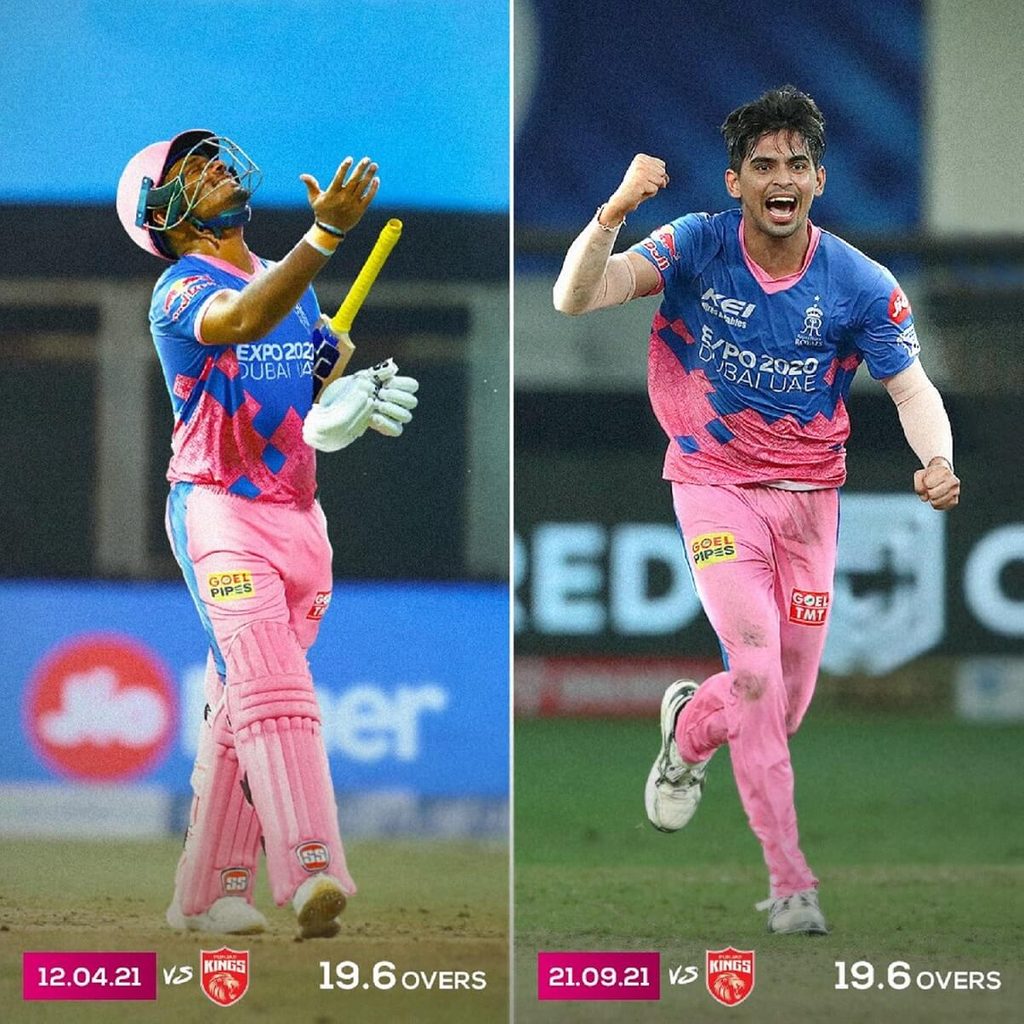 Two images. Just two images tell the whole story here. One, of Sanju Samson walking off in despair looking up at the skies after the last-ball defeat against Punjab in Mumbai. The other, of Sanju celebrating with an exuberant Kartik Tyagi after pulling off a miracle in the final over against the same team on Wednesday. And somewhere in between, Yashasvi's determined, piercing light brown eyes firmly on the ball.
Steadily and always gathering momentum, Yashasvi's fine innings set sail to the Royals' innings, until one fateful ball, and one age-old mistake. The 19-year-old, eagerly trying to get to his fifty with a single, stretched that little bit too much to force a single and lobbed a catch to Mayank Agarwal at cover. The sheer disappointment of him missing out on his first IPL fifty was seen on his, and even Sanju Samson's face, and once again we were taken back to that image against PBKS at the Wankhede.
A brilliant hundred for the ages, a man dragging his team along on his captaincy debut - Sanju did everything to keep the Royals in that match against PBKS. He took the onus on himself, backing himself to hit a six to win it off the last ball, and the rest is painful history. T20 cricket indeed is a game won and lost within a matter of a few inches – and even PBKS skipper KL Rahul ended up falling short on Wednesday. He too was dismissed on 49, after slashing a wide one to short third - a turning point in the match in hindsight.
I say "in hindsight" because PBKS were cruising in the chase at 120/1 in the 12th over, when KL departed. Markram and Pooran executed their job brilliantly and almost took the team to a fantastic victory. Almost.
With two overs to go and 8 runs needed for PBKS to win, Sanju, who had saved his best for the last, summons Mustafizur Rahman. Fizz had gone for 26 off 3 overs, but he uses both talent and tenacity to concede only 4 runs in the 19th, giving us some hope. They need four runs off the last over– one shot could do the trick – and Sanju hands the ball to young Kartik Tyagi. He then proceeds to step up, and channels all those years of practicing yorkers like Brett Lee, executing them to perfection.
He gets Pooran and Hooda in the space of three balls. Both nick it to Sanju, but the skipper refuses to celebrate, instead jogging casually up to Tyagi to focus on the next ball instead. With three needed off the last ball, Kartik runs in one more time and nails that yorker again, as we win incredibly by two runs. Stranger things have happened in the format, but that final dot ball to Fabian Allen could be a turning point Kartik's career.
"I was bearing injuries during the first half of IPL. Spent a lot of time sitting out due to injuries which was pretty disappointing because I wanted to deliver for my team. However, I spent my time in recovery in getting better at my abilities," Kartik, who missed six out of the first seven games of the season, said reflecting on his preparation for the second half of IPL 2021.
"Getting to play with world-class pacers in the RR camp made me even more confident about my own game. It's made me improve, and I want to keep challenging myself more and more now. I am very competitive, and want to do as much as I can to compete against the best," he added.
Two images can tell an entire story. And two images can tell us a lot about cricket - a great leveller, a great teacher of life.
What did think of our win against PBKS? Send in your views on Twitter at @rajasthanroyals or to me @cricketpun_duh