One season into Sanju Samson's IPL captaincy and it's for everyone to see the significant transformation in his overall gameplay. While he is the same man as before, with the same humility, same urge to grow, there's something more charismatic about his batting. We can't say it was captaincy that changed his approach because Sanju himself believes in keeping the two roles mutually exclusive, but his batting did evolve in the IPL 2021 season. But, well, the maturity could've come about because the Rajasthan Royals skipper is only 26 and ever embracing growth.
A season of new heights
The recently concluded season was inarguably Sanju Samson's best-ever season in the IPL be it for the number of runs he amassed or in terms of average. For the first time in his five years of playing in the IPL, his batting average touched 40. Meanwhile, he still maintained a brilliant strike rate of 136.7. His 63-ball 119, which came in the opener of IPL 2021 against Punjab Kings which was also his first IPL match as captain, is also his highest T20 score. With that, he has continued with his trend of scoring a century every alternate season (2017, 2019, 2021).



With the aforementioned hundred, in a heartbreaking last-ball defeat against PBKS, Sanju also entered an elite list of cricketers with three or more IPL hundreds. In fact, his tally of three IPL hundreds is only second to RCB captain Virat Kohli's five among Indian players.

Most 100s in IPL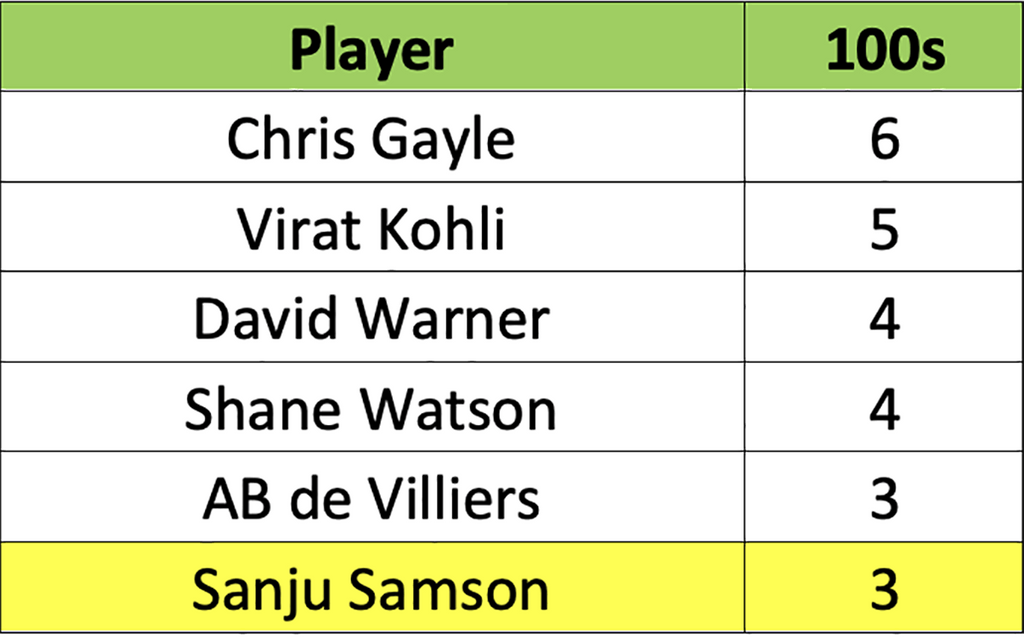 Most Runs for a No.3 batter in IPL 2021

A breakdown analysis of Sanju Samson's batting in each stage of a T20 innings
Powerplay
While his strike rate in the Powerplay has dropped, especially since he became captain, it is also important to note that he scored 99 runs this season- which is the joint second-highest for a season since his IPL debut. That says more about the batter coming in and trying to settle down rather than slogging from ball one, much like a captain would do.


Middle Overs


Coming to the middle overs, which was Sanju's strong suit in the last season, the batter has shown a stark evolution in character. While the strike rate is in 130s again, much lesser compared to the last season, an average of 62 means he safeguards his wicket more than investing in power hitting. However, has it dented his intent? Apart from the average in middle overs being the highest in any season so far, his balls taken per boundary of 6.7 is second best.

Death Overs
Coming to the intent part of the argument, a part which is undeniably significant in T20 cricket, Sanju Samson has been exceptional in power-hitting during death overs this season. Not only has he scored 100 runs for the first time, showing how important his build-up in the previous stages is, he has also maintained a strike rate of 185.




While his fantastic numbers in death overs are Sanju's personal best, it is fourth among all batters in IPL 2021. In fact, In the last three seasons, Sanju is only behind AB de Villiers, Andre Russell, and Faf du Plessis in terms of strike rate in death overs (threshold 200 runs).

Best Strike Rate in Death Overs – IPL 2021 (min. 100 runs)


Best Strike Rate in Death Overs – Since IPL 2019 (min. 200 runs)

Versatility
Since IPL 2018, Samson is the sixth leading run-getter amongst Indian batters. In 55 innings, Sanju has amassed 1642 runs, averaging 33.5 and striking at 144. Amongst the top 10 of this list, only Rishabh Pant has a better strike rate (146.4) than Samson's.
Meanwhile, the Rajasthan Royals captain is also third in the list of top six hitters- with 75 sixes since IPL 2019- in the last four overs combined. His balls per six ratio of 15.2 is only lower than Hardik Pandya, Ishan Kishan, and MS Dhoni, among Indians, in the same period.
Most 6s among Indians – since IPL 2018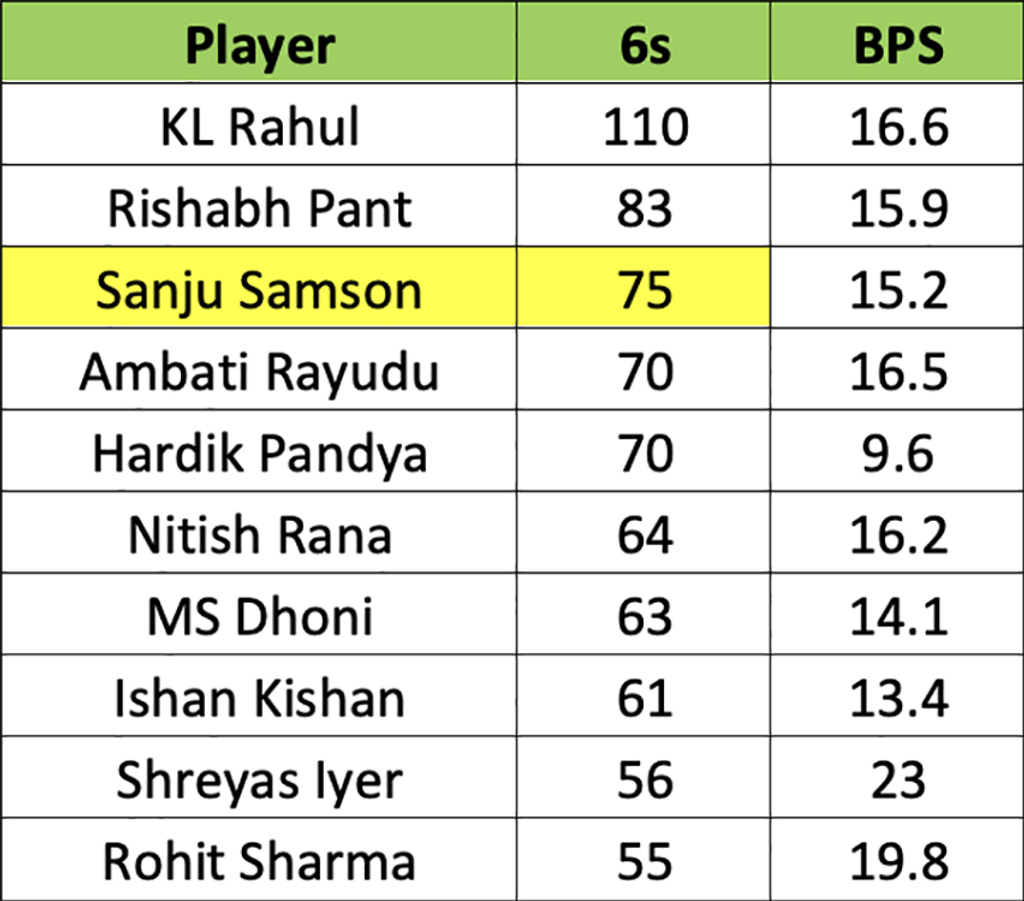 Every bit of Sanju Samson's growth in the IPL, and especially in this season wherein he made his captaincy debut, shows signs of greatness. Be it anchoring an inning, accelerating it, or taking the team to a winning position, Sanju has done it all. With added responsibility, Sanju has evolved like a Pokemon rather than being overwhelmed with duty. If ability means anything in cricket, Sanju will keep stepping up in the coming seasons. If consistency means anything in cricket, our captain won't fade away. Sanju has got a big domestic season coming up for Kerala – a good one will put him in contention for a spot in the national side with the 2022 T20 World Cup already in sight.