From training at a ground named after MS Dhoni to posing for fun photoshoots, the new-look Royals squad made the most of their 3-day pre-season camp in Nagpur, preparing for an exciting IPL season starting March 26!
Nestled away from the hustle and bustle of the city, the Royals High Performance Centre outside Nagpur was abuzz with shades of pink and blue over the past few days. The Class of 2022 kicked off their IPL preparations with a three-day camp in Talegaon, about 100-odd kilometres from the city centre. A one-of-a-kind facility in India, this is where the players came to train, rest, recover and rejuvenate.
The academy was founded by Romi Bhinder (Team Manager) and Zubin Bharucha (Strategy, Development and Performance Director) in 2018. From a full-fledged cricket ground with big boundaries, quality coaching under Mr. Bharucha and others, separate practice wickets adjoining the main ground, a dressing room full of gym equipment to a museum featuring signed memorabilia - it has everything a player needs for inspiration.
"When I was playing club cricket in the UK, I went to the Lord's Museum and it left an impact on me. I wanted to create something called the 'World of Cricket' back in India. So after 2015, I pitched to the Royals owners about having the franchise's own excellence centre in their quest to support and groom young talent," says Bhinder, recollecting how the journey began.

"This is not just an academy. It's my life. And I want to ensure it helps all Royals to learn, evolve, develop their skills and be the best in the world," he exclaims.
Interestingly, the cricket ground is called "MSD.7", named after legendary Indian captain MS Dhoni, who first visited the academy in 2018. Bhinder, who shares a great rapport with MSD, says it wasn't something that he had expected or planned.
"One day I just got a call from MS saying he was 50 kms away from the academy. I didn't know he was coming. He spent 2-3 days with us, and it was the same time when we were starting to build our cricket ground. I asked him if he could come and do the bhoomi pooja, and he agreed. So we built a number '7' figurine in one part of the ground and requested him to inaugurate it," Bhinder recalls.
Surrounded by lush green fields and a mesmerising sense of calm, the ground is every cricketer's delight. You could cycle your way there from the academy's own accommodation, or just take a short walk along the highway. As you'd get closer, blue and pink signposts with 'Home of the Royals' written on them welcome you with open arms.
Also located within the campus is the 'Innovative Minds School of Excellence', whose foundation stone was laid much before the cricket camp came to life, by the Late Shri Raj Singh Dungarpur, former BCCI President, selector and manager. Dr. Neeta Adhau (Head of Administration) looks after the entire running of the school, alongside supporting the academy's vision. Hearing the school bell ring in the background, watching the kids at the assembly, strolling through the classroom corridors - it's like taking a trip down childhood memory lane.
A walking tour of the academy's campus is sure to leave you in awe. There's 'Cafe Willow' - the in-house restaurant that has a team of chefs preparing and serving a delectable spread of dishes from different cuisines, made from homegrown produce. Add to that the warm nature of everyone working there, and one instantly feels like they aren't too far from home. Whether it's a player, team management, support staff or the crew - every single person is looked after with equal care.
Then there's a game room, whose walls are adorned with autographed cricket bats, balls and other gear used by the Royals across seasons - almost immediately turning back time to cricketing folklore and narrating a story of its own. And it's not just the players and coaches whose pictures go up on the wall - the management has ensured all Royals employees and those working alongside have a place of their own on those walls.
So what does a typical day at the academy look like? During the day, the players work up a sweat on the ground. Warm-up sessions, fielding drills, range-hitting, bowling spells - they can be seen focusing, preparing and enhancing their skills. A group of net bowlers, training and staying at the academy itself, give throwdowns to help them train, and also go about their own practice simultaneously.
A day-long practice session is followed by a recreational evening with some off-the-field team bonding. As part of IPL preparations, the Royals' digital crew conducted their pre-season photo and video shoot, where the players donned their jerseys and made friends with the camera. The shy, unassuming players were quickly made to feel comfortable with peppy Bollywood music playing in the background. It was a revelation to watch them confidently strike the right poses, sometimes adding their own twist to it. A favourite dance step, a trademark celebration - it gave a sneak peek into the other side of these young boys.
Riyan Parag, one of the young Royals bought back this season, arrived at the camp with two goals in sight - to gear up full throttle for the IPL and to appear for his FYBA final exams in the same period. He was accompanied by his mother, Mithoo Barooah, who ensured he struck the right balance between his cricketing dreams and education. A typical day for Riyan would be to finish writing his exam in the morning, then head straight to the ground, where he'd train for hours before returning in the evening. It was then followed by a cool-down session, an early dinner and calling it a night early, before he'd prepare for his next exam the following morning.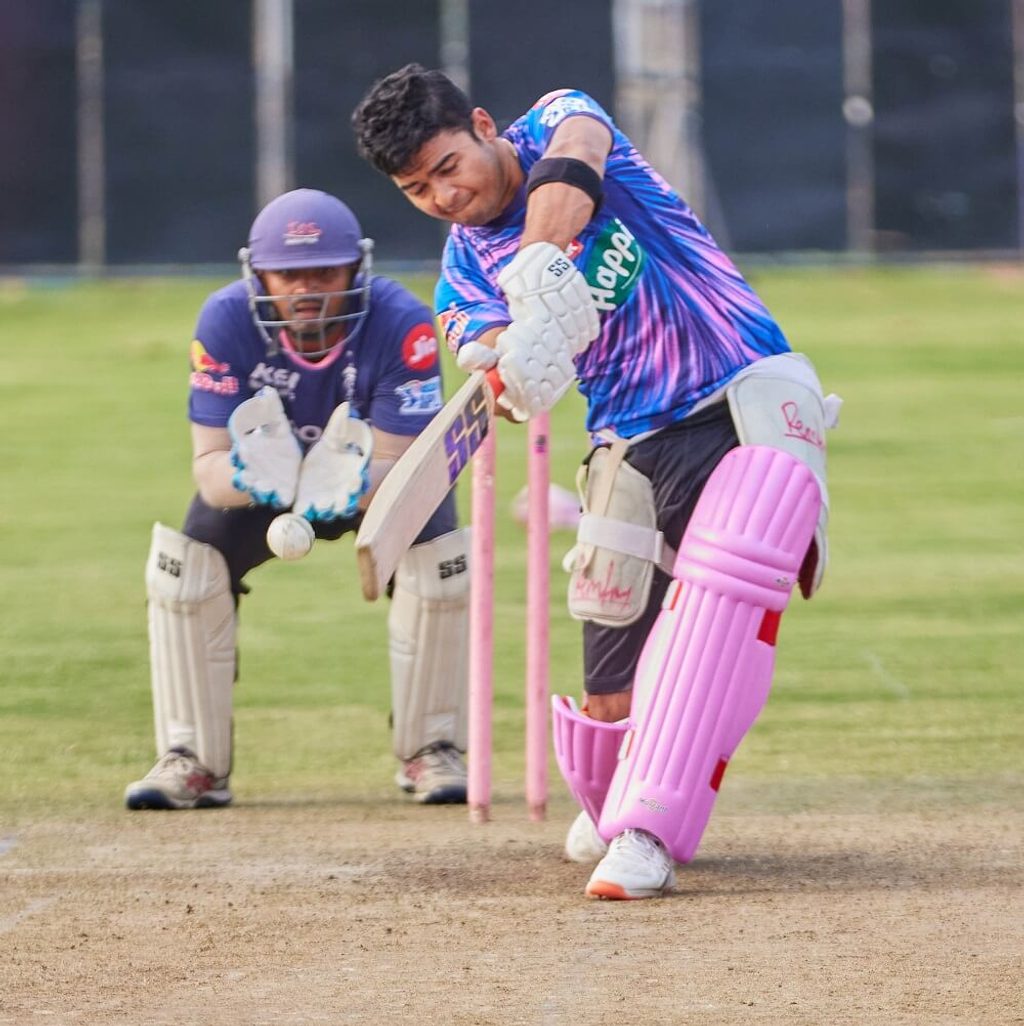 For Yashasvi Jaiswal, the academy is his home. At the nets, he bats, bats and then bats some more. And once he's done training, it's like spending time with his family - talking about cricket, life and all things around it. Between the two legs of the IPL in 2021, Jaiswal spent close to 3 months at the academy practising day in, day out. Then in the 2nd half in Dubai, he struck the Royals' second-fastest fifty in the IPL.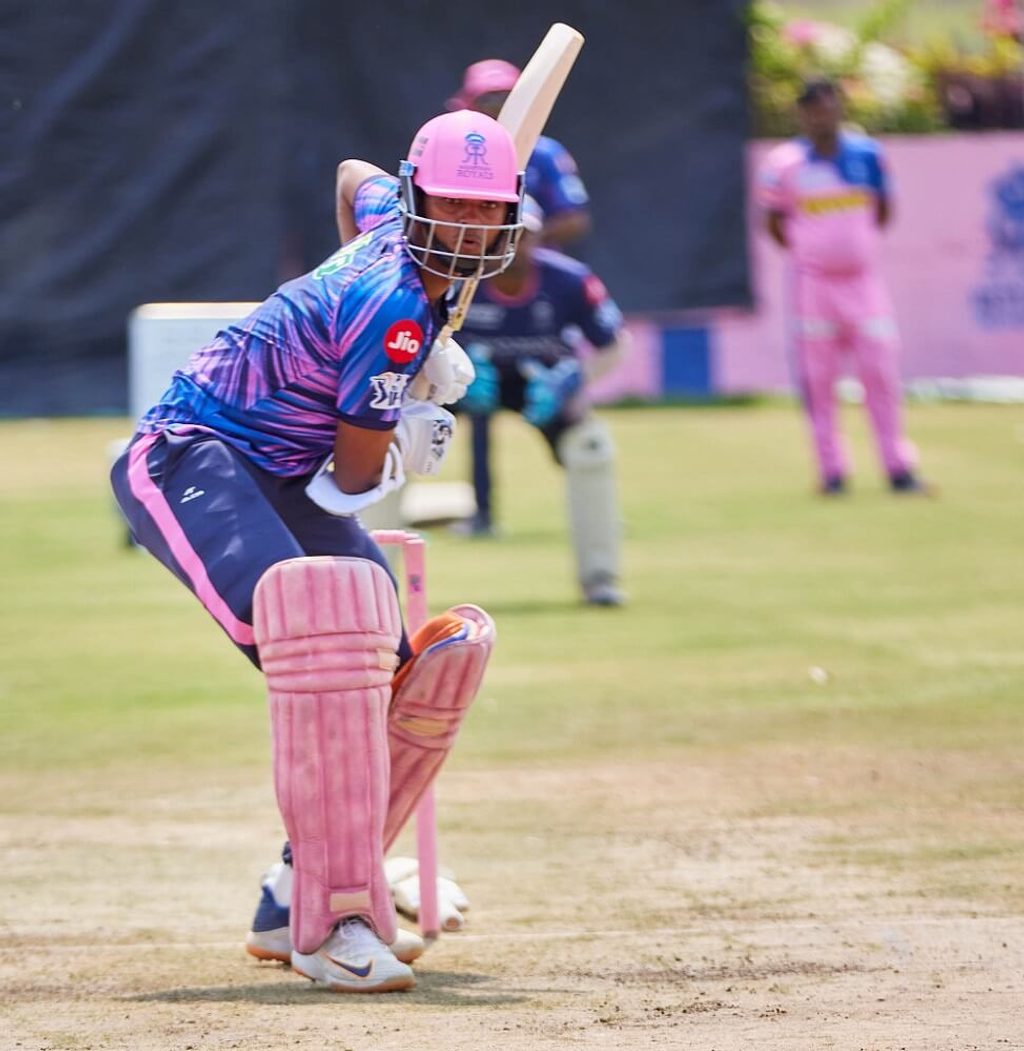 All-rounder Shubham Garhwal and fast bowler Anunay Singh were both called up for the pre-IPL trials earlier this year. Under the watchful eyes of Kumar Sangakkara, our Director of Cricket & Head Coach, the duo passed their first test and found a place in the auction, eventually becoming a Royal by the end of it. Having begun their journey with the Royals here, the academy holds a special place in their hearts. A place they'd happily love to come back to time and again.
"It (the academy) brings people immediately into the Royals family. Whether the players have played for any other franchise or not, they feel like a Royal straight away. We've still got a lot to do; we want to have the best high-performance facilities, conditioning and recovery facilities. But what we've got now has such a significant core impact", says Jake Lush McCrum, CEO of Rajasthan Royals.
It was an altogether new experience for some of the boys, who are first-timers at the franchise, but the academy's overall energy quickly put them at ease with the rest of the lot. First, during their practice sessions. Later, at the dining table, where they would catch up over meals, impromptu games, and ice-breaking conversations.
The days leading up to every IPL season come with their fair share of palpable excitement and nervousness. New strategies, fresh faces and non-stop cricketing action to look forward to with unpredictability at every corner. At the Royals camp though, a sense of calm envelopes the air, with all eyes on the prize.
What would you like to read next? Tweet your suggestions to us at @rajasthanroyals or send them to me, @arey_yaar