With the outbreak of the coronavirus, the sporting landscape has changed drastically. The world is a very different place now across elite sports – quarantine has become a part and parcel of modern sport. Having just finished with my mandatory seven-day quarantine, I've now stepped into the very secure bio-bubble with the Rajasthan Royals.
As we start this journey into the 14th season of the ever-amazing Indian Premier League, there have been talks around how players and teams have been forced to live in prolonged periods of quarantine and isolated bubbles. In my opinion, it is a small price that we are having to pay to be able to still play and be involved with the elite sport. The main aim here is to protect the players, ourselves and the wider community so that we can bring to the general public the joys of sport, no matter what that sport may be.
Life inside the bio-bubble:
At first, the idea of being isolated in your room can be a bit daunting but having experienced it a bit too much by now, I think we've all become very good at setting routines and making sure we stick to them. Just because we are confined to the four walls, doesn't mean that things have to be that different. We've basically focused on a few areas that will effectively keep everyone in good shape and spirits – nutrition being a really important focus-area. So, a couple of weeks before the tournament starts, I've had the opportunity of discussing in detail and curating a menu with the help of the F&B Head and the Chef at our hotel, to ensure these options suit every individual. We must remember here that there are about 100 people in this bubble including hotel staff that need to be catered to, and they come from across the world, so we need to address nutritional needs as well as include comfort foods that these people might want.
Being able to exercise is the second area of focus meaning that these elite athletes, who come from a period of high intensity performances, go straight into isolation, and then come out right into a period of high-performance environment again which is the IPL. So, what we've tried to do is make sure every player has exercise bikes, dumbbells, swiss balls, medicine balls, resistance bands, steps – basically all the things that will allow them to train efficiently and effectively within their own rooms.
We also encourage everyone to read and study. If you look at the best sports people in the world, they are often the ones that can visualize scenarios better than others – and we might have become a bit laid back because everything is available to us in the digital form and on our screens, that we've lost that ability to visualize anymore. Particularly by reading books and novels, we learn to recreate scenarios in our brains and we learn to visualize. So, I'm encouraging the boys to read, and also expand their own knowledge. It is important to not get immersed in screen-time, and understand that if they are able to follow instructions, they will come out of quarantine feeling really good going into the tournament.
Importance of mental health:
One really positive thing that has come out of COVID-19 is how mental health has been brought to the fore. Going into the 11th month of the bio-bubble, players now are a lot more open to discussing things. We're having to understand that there are different circumstances and scenarios that the players are all under, and that can be very challenging. I've spent the last 8-9 months on really brushing up on my sports psychology skills and understanding how important a role mental health plays in not just the performances, but also in our ability to cope with an ever-changing world around us. We now have access to online material, but also in-house professionals who can help through these challenging situations.
What we've understood is that all athletes often don't like accepting that they're failing at something or that they have a weakness. A major part of my job now is to create an environment to allow them to come forward and talk about these challenging situations, and often that first point of call is myself – because I'm the physio, and I've been with this group for such a long time. They know my door is always open, and there are avenues for them to explore should they require that.
24x7, 365-day engagement:
Being the Head Physio of one of the best IPL franchises, it is always a 12-month engagement for me. For me, the new season begins the day after the previous season ends. It is an uncompromising commitment to the playing group – and what separates us from other franchises is that we have people on-ground in India – remembering that 75% of our playing core group is from India, and we are the ones who they can access 24x7, 365 days a year – and not just during the IPL.
There are several players who don't have access to very good support services, especially in the medical and physical world, particularly outside of the IPL. Some may not be involved with the NCA or the national team, so it becomes really important that we invest in our assets, which are the players. The fact that I'm here in India throughout the year allows them to have a layer of support that perhaps they otherwise wouldn't have. If you ask a player what scares them the most, its injuries and perhaps spending time away from the sport, and losing their place in the team. Therefore, I believe it gives them a real comfort to know they have someone who is easily accessible to help them, give them advice around over-playing, over-training, recovery protocols, diet, nutrition, and workouts. As a franchise that believes in being innovative both on and off the field, one of my key roles is to set programs for them throughout the year, we monitor their blood markers, and we do this, not just to get them to perform well during the IPL, but also for a better, long-term health outcome. When you are able to do that, it makes your job so much easier when the tournament is about to start. We have a better understanding of them as individuals – and that certainly allows us to make sure that they are in the best place physically and mentally before the IPL starts, and hence it's important we maintain this off-season commitment to them.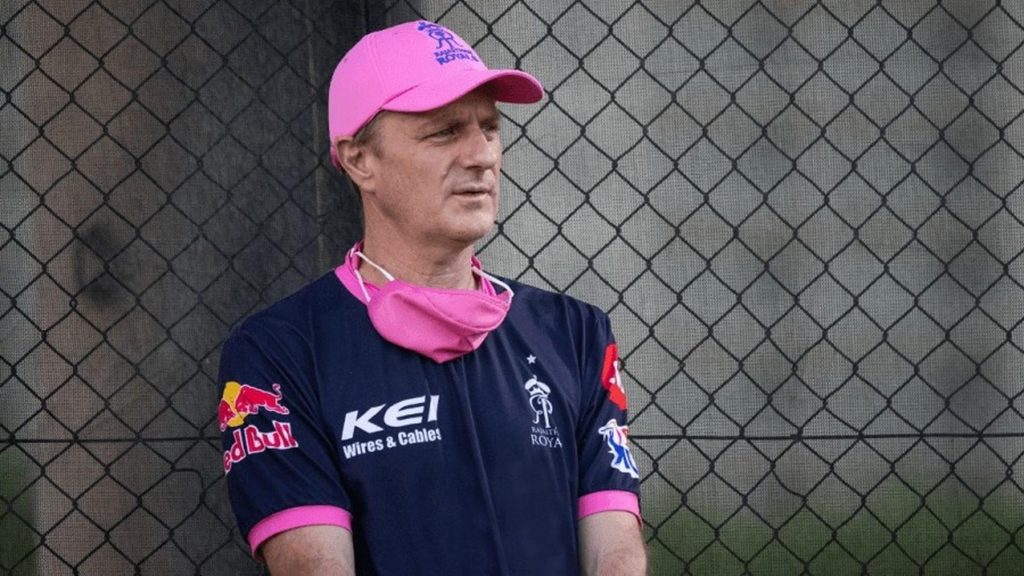 Gearing up for the Season:
When the tournament is about to start, it's a really different ball game – because that's when the intensity hits its absolute peak. Right now, we are preparing the players for what's to come, and that is the key. We now only have very short windows for pre-season camps before the IPL to prepare them adequately for the tournament. So, the intense communication stage starts approximately three months before the new IPL season, and the intense interventions with our players also start around that period to ensure that we are able to monitor their playing loads coming into the tournament - if they are getting enough cricket or getting too much cricket.
When the tournament actually starts, a lot of it is about managing playing loads, and the other part is really drilling down on recovery. Because of the intensity involved in this tournament, particularly if there's travel involved, recovery becomes critical. My opinion is that your next performance is only as good as the recovery post your last performance. So, we place a lot of emphasis on recovery protocols between matches
Efficient use of innovation & technology:
Recovery is a combination of a number of things put together – most crucial being sleep – so we track and monitor sleep patterns, look at heart-rate variability. We also place emphasis on tracking nutrition, hydration, keeping an eye on team and hotel environment, providing adequate ice-baths, conducting active recovery sessions in the swimming pool and activation exercises, massages sessions, using recovery pumps, Game Ready machines, neural stretching routines, bio-ceramic infrared garments – so we're trying to bring all these technologies into the equation to improve what we call those one-percenters.
I always say that in elite competitive sport, technically all the players are very much at the same level, but what differentiates an elite athlete from an average one is how well you recover. We need to be disciplined about these recovery protocols and strategies so that our players are better recovered and can better perform on the field. It also helps in reducing the risk of injury, so everything we do outside is all about improving what the players can do once they get onto the field. The use of these innovations and technologies is all a part of how we can prepare our athletes to excel at the highest level consistently.
Being the pioneers of innovation and technology in the IPL, we have used various apps and wearables that have helped along the way, some of which track your sleep patterns – when you're asleep, when you're awake, which sleep cycle you are in for how long, temperature variations, oxygen saturation, resting heart-rates, all your activity levels, breath rate, and heart-rate variability – the last being a good measure of if you're actually recovering or not.
As the Head Physio, I think having wearable devices which can give me some incredible information about my players is immensely helpful. If I can map this data, I can then intervene and better advise the players on how to improve their performances on the field – and that's one of the reasons why we were the first team to bring in Catapult – which the players wear on their backs. Bringing in such innovation and using the right technologies is something that we do here at the Royals, and I am really happy that we've been able to be efficient in the usage.
Adapt, create & evolve:
The most important thing to remember now is that sport is changing everyday – and we have to change with it – we've got to be a bit like T20 cricket. We have to be adaptive, we've got to be creative and think out of the box a little bit – and my job as the Head Physio of the franchise is to be that – to be innovative and to deliver.
The players are expected to deliver on the field, and we're expected to deliver off the field, and by 'deliver', I mean bringing to the table every year new approaches, new ideas, that we know will benefit our players and reduce the risk of injury, improve performance, and also keep the long-term health outcomes in mind. So, my role here is very fluid and is changing all the time, but for the next eight weeks, it is a role that will unequivocally determine how far our team can run in this eight horse race.
~ John Gloster