His unbeaten 70 against Royal Challengers Bangalore may have gone in vain, but Jos Buttler in IPL 2022 is already a warning sound for the opposition.
Blue eyes, calm demeanour, a soft-spoken voice - Jos Buttler isn\"t your typical T20 aggressor - at least by the looks of it. Beneath the harmless exterior lies a merciless batter with nerves of steel and a repertoire of innovative shot-making. As a bowler, you can't err against him. Certainly not on his day. Definitely not when the stars are aligned in his favour. He may be smiling on the outside but inside, the plotting is done, and he's ready to go for the kill.
With 205 runs in 3 matches so far, Jos has already cooked up a storm this season, living up to his billing as the Royals' senior-most batter. He was, after all, one of three players retained this year, showing the franchise's immense faith in his experience and abilities. The 31-year old was also a key part of the management's decision-making ahead of the auction, sharing his valuable inputs on building a strong squad. Having played for the Royals over the past four seasons, Buttler's stature has now grown into that of a statesman, both as a batter and as a guiding force for the youngsters at the franchise. And he seems to have taken a liking to his new role pretty quickly.
The franchise has built a solid batting line-up around him this time. Yashasvi continues to be his opening partner, giving the youngster more time to learn from the other end. In Devdutt Padikkal, they have a classy top-order batter who can bat at the critical No.3 spot. Captain Sanju continues to offer stability at No.4, and with the explosive Shimron Hetmyer and Riyan Parag slotted at No.5 and 6 respectively, the middle order and finisher roles are taken care of as well. The Royals bench is full of high potential as well, with the likes of Rassie van der Dussen, Daryl Mitchell and Jimmy Neesham all capable of making a huge impact with the bat.
Buttler's ability to mix caution with aggression has helped the Royals build their innings despite losing early wickets in their last three games. It has also given the rest of the batters the freedom to pace their innings around him. Each of his three innings so far has had a significant impact on the team's total. As someone who isn\"t wired for defensive stroke-play, he has read the match situations well, and planned his every move carefully - all while finishing with an average strike rate of nearly 150 across all matches.
In the tournament opener against Sunrisers Hyderabad, Jos played out the entire first over bowled by Bhuvneshwar Kumar without scoring a run off his bat. The ball was moving around, but he was patient. As soon as Umran Malik started offering width in the 4th over, the Englishman activated 'beast mode'. Two sixes, two fours and a reprieve in the same over - thank you very much, said Jos. Although short-lived, his 28-ball 35 gave early momentum to the Royals, as they went on to post a 200-plus total.
Against Mumbai, he started similarly. A quiet first few overs were followed by a 26-run feast off Basil Thampi and the stage was set for a Jos special. His previous four innings against Mumbai before this one had yielded three half-centuries. Given his form against the franchise, it was only a matter of time. This was Jos at his brutal best, making batting look easy against a quality side. The kind of audacious stroke play that he's known for - the scoops, the pulls, the cuts - he played them all with a smile on his face. The kind of smile that says, "I'm coming for you".
Perhaps, his most challenging knock among the three came against Royal Challengers Bangalore. The idea of batting on a typical Wankhede wicket would've ideally had Jos licking his lips, but this was a different pitch altogether. The two-paced nature of it kept a rampaging Jos from the previous game relatively quiet right until the death overs. Jos could have resorted to taking excessive risks and going big right from the start. But instead, he assumed a more responsible role, almost that of an anchor, and saw out a difficult passage of play. He also finished the innings unbeaten, smashing big runs in the last two overs to ensure there were enough runs on the board.
It's not just his batting, but also what he does on the field that makes Jos an even more important cog in the Royals wheel - whether it is encouraging the bowlers even after they've gone for runs or sharing pitch insights with them after being dismissed, advising Sanju between overs, helping with the field placements and so on. That he continues to display his athleticism as one of the best fielders in the team (We can't forget that catch against MI!) is another feather in his cap.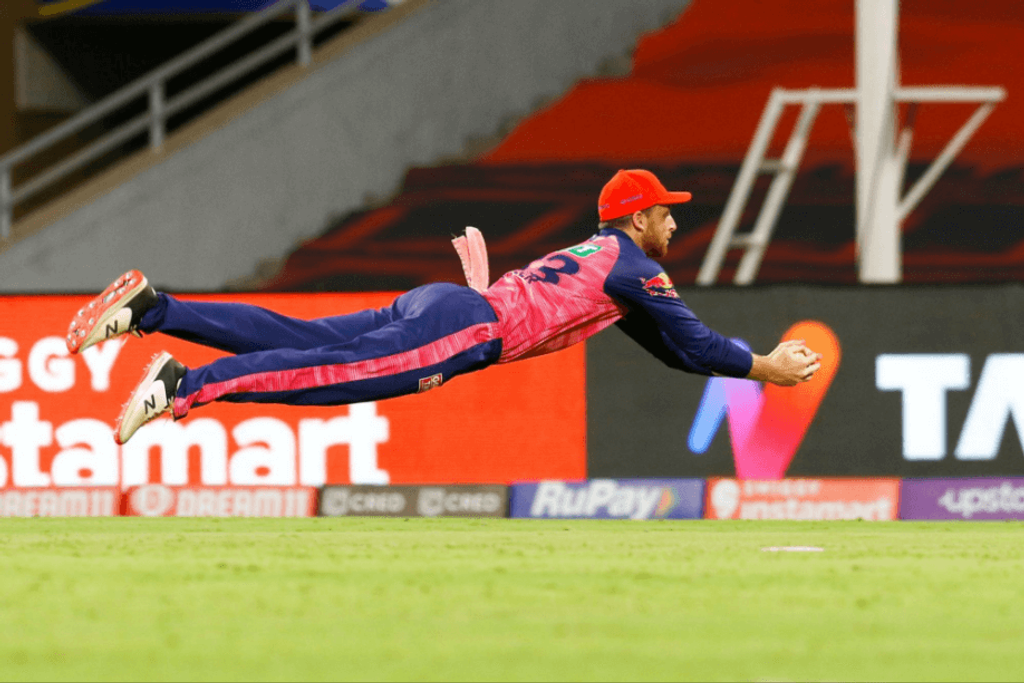 Buttler could only play the India leg of the IPL season last year, with his last game featuring his scintillating maiden T20 hundred. But he did have a successful T20 World Cup in the UAE right after our season was over. He finished as England's leading run-getter with 269 runs, including a sensational century. Soon after, he was travelling to Australia as part of the Test team, for what was his first away Ashes series. England and Jos couldn't impress much, and his tour was further dented by a broken finger that sent him home before the final Test. It wasn't the most ideal finish, but it allowed him some much-needed downtime. A quick look at his Instagram feed would suggest that he consciously stayed away from cricket during this period to spend time with his newborn daughter and family, and used the remaining time to recharge his batteries for the next frontier, his upcoming stint with the Royals.
"India has become my second home", Jos had said upon his arrival in India before the season kicked off.
And why not? At the Royals, every player and their families are well looked after. For a couple of seasons now, IPL teams have had to adhere to the strict protocols of a bio-bubble, limiting their contact with the external world for two long months. It could get emotionally challenging, but the Royals management has ensured the environment inside the bubble remains stress-free and fun.
There have been occasions and birthday celebrations, not just of the players but also of their families. Last year, Jos' elder daughter Georgia turned two, and the entire Royals team celebrated her birthday together inside the bubble - with smiles, fun games and lots of cake! It was a room full of love for the little one, and it brought out the emotional side of Jos and his wife Louise, who said it 'felt special' to be a part of the Royals family.
You could see why he was excited to be back.
With the confidence of the management, a more settled role at the top, a power-packed batting order for support, a strong overall squad and a full-fledged season with the Royals - the time is right for Jos to have a blockbuster of a campaign this time. He has form on his side, and the license to kill. Add to that a good-looking Orange Cap on his head, and the script is complete. This is a fitter, meaner and hungrier version of Jos Buttler - England's first T20 superstar, white-ball plunderer and a brilliant reader of the game. One that could fuel the Royals' fire on their IPL journey this year. This could be Jos Buttler's world, and we could just be living in it. And we're not complaining.
What would you like to read next? Tweet your suggestions to us at @rajasthanroyals or send them to me, @arey_yaar